Since the cruise industry restarted in June 2021, Royal Caribbean crew members have been serving guests at all buffets aboard its cruise ships. Cruisers on some Royal Caribbean ships this week reported that guests are now helping themselves to the buffet.
photo credit Lin Pojeta
The switch from a self-service buffet to a full-service buffet was one of Royal Caribbean's health protocols introduced to prevent the spread of Covid-19 on board. In the past, passengers grabbed tongs or serving spoons and helped themselves to the buffet, but the new protocol meant that only Royal Caribbean crew members would serve food to guests.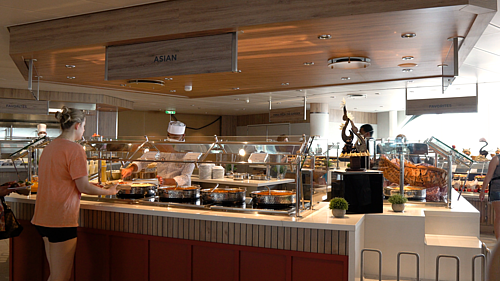 This protocol was present at all onboard buffets, whether at the Windjammer Marketplace or smaller buffets like the Solarium Bistro, and was one of the changes Royal Caribbean has made that many passengers have most appreciated.
Over the previous two months, however, Royal Caribbean's buffet service protocols have become noticeably more relaxed. Beverages like coffee, water and juice, which were once served by a crew member, moved to self-serve stations earlier this year. Also, I noticed that some foods, like bagels and pita bread, came through self-serve at Solarium Bistro on a recent Wonder of the Seas cruise.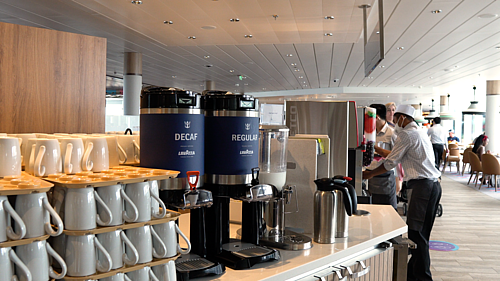 While most ships still have crew members serving guests at the buffet, a handful of ships have transitioned to self-service for guests.
In a Facebook group for Pinnacle members of the Crown & Anchor Society, several cruise lines announced the return to a self-service buffet. Passengers aboard Oasis of the Seas, Allure of the Seas and Freedom of the Seas have mentioned that their sailing has returned to self-service, with crew members no longer serving guests at buffets.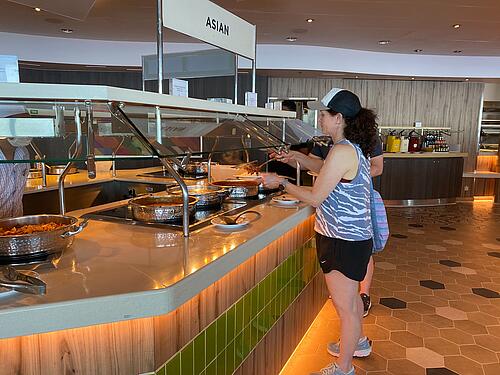 photo credit Lin Pojeta
Currently, the move does not appear to be fleet-wide, as a Grandeur of the Seas guest noted this week that his ship is still operating a full-service buffet.
UPDATE: Royal Caribbean crew members continue to serve Windjammer guests across the fleet. While there was self-service on some ships today, the crew will serve guests again tomorrow in Windjammer.
A change of direction
The return to the self-serve buffet is a shift in direction from what cruise line executives said a few months ago.
In September 2021, Royal Caribbean Group Chairman and CEO Richard Fain said he believed crew members serving guests at buffets was a better approach, in addition to protecting the health of guests at edge.
"On board, the buffet, where you are now served instead of taking the pliers yourself. And I suspect for us that will be a permanent feature, because regardless of health reasons, it's just better.
Mr. Fain also mentioned that when crew members serve guests at buffets, the food ends up being fresher because a crew member is able to realize the container is empty right away and grab one. new.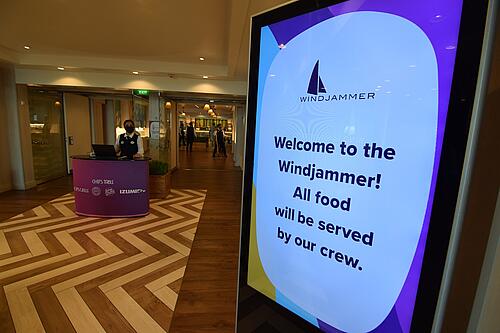 Besides the health benefits of just a few crew members touching buffet tongs and serving spoons versus hundreds of guests, there are a few other benefits worth noting.
Many customers feel that there is less food waste created when crew members serve customers at the buffet, as they are more likely to give a reasonable portion size compared to customers filling their plate.
And while the switch to self-service may not have an impact on the transmission of Covid-19 on board, many customers still feel that a self-service model is less hygienic than a self-service model. full service, despite the fact that customers must wash their hands on arrival. at the buffet.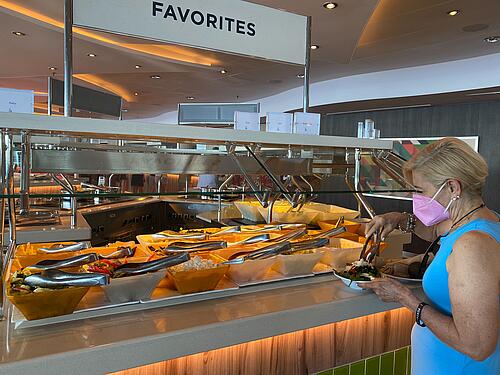 photo credit Lin Pojeta
CDC Requirements
Royal Caribbean may have returned to a self-service buffet in response to the Center for Disease Control's latest requirements for cruise ships.
In the operations manual for cruise ships operating in U.S. waters, the CDC states that "food stations may be operated on a self-service basis at the cruise line's discretion."
Switching to a self-serve station is subject to a few requirements listed by the CDC, the majority of which are to promote physical distancing at the buffet. Cruise lines should encourage distancing through physical guides to direct passenger flow, provide signage for social distancing, and provide an appropriate number of staff to monitor distancing.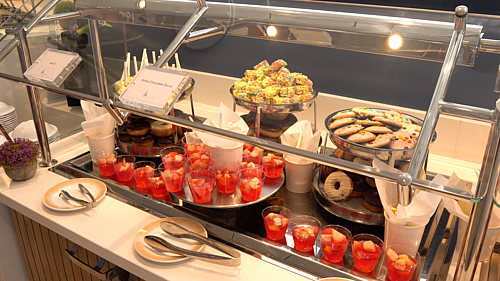 Additionally, cruise lines should provide hand sanitizer at food station entrances, ensure an adequate supply of high-contact materials (serving spoons, tongs, etc.) to minimize sharing of the utensil by many passengers, limit buffet seating capacity, and install physical barriers where it is difficult for customers to maintain appropriate physical distancing.
Royal Caribbean appears to be following CDC guidelines to allow a self-service buffet, though it's a move not welcomed by all cruise lines.
The return to a self-service buffet has been a hotly debated topic for Royal Caribbean cruise passengers since the cruise industry restarted. Those in favor of crew serving guests cited increased cleanliness and a lack of food waste as key reasons they would like to retain a full-service buffet.
photo credit Lin Pojeta
Those in favor of a self-service buffet, on the other hand, appreciate being able to help themselves to exactly what they want from each item without having to go through a crew member to do so.
Royal Caribbean's health protocols are constantly changing, so only time will tell if the buffet returns completely to self-serve or not. For now, the change only seems to affect certain ships, but not the entire fleet.
How about a self-service buffet or a full-service buffet? Would you like Royal Caribbean crew members to continue serving guests at the onboard buffets? Let us know in the comments below.