Gather family and friends for an outdoor culinary getaway with delicious BBQs, brunch staples, Easter-inspired signatures and bottomless drinks
It's the perfect time to get outside, enjoy the warm, sunny weather (without a mask), and indulge in some gourmet favorites with your loved ones.
Escape to One Farrer Hotel offers the perfect place to do all of this, and more. The restaurant already offers a range of sizzling steaks, mouth-watering entrees and cocktails, but come Sunday April 17, expect an even bigger and better feast.
Live a relaxed afternoon with the Buffet Brunch Dinner and Diving where Chef Marcus Tan and his team will present a culinary getaway for families and friends. Dive into an à la carte buffer with BBQ favorites, brunch staples and Easter egg-inspired signatures.
A delicious spread
Start brunch with a refreshing bowl of papaya salad with grilled shrimp; butternut squash bisque; Potato Salad with York Salted Eggs; pasta with forest mushrooms and smoked duck; and fresh pastries, including an assortment of rolls, baguettes, and quiches.
Eggs are a must this Easter, so hop over to the artisan egg station and order your style of eggs – poached, scrambled, fried or however you like. Choose from a range of sides such as ham, bacon and mushrooms.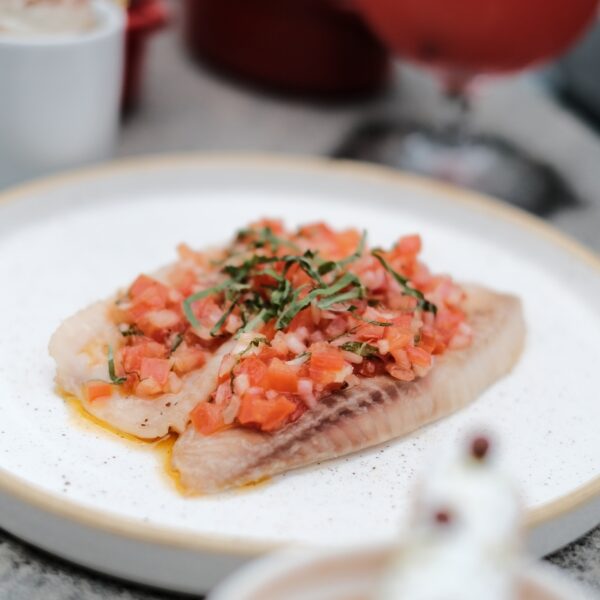 Fresh off the smoldering grill, you'll find the perfectly grilled Black Angus beef rib eye with a sprinkle of thyme sea salt; tender sriracha-marinated charcoal-grilled Huli Huli chicken; Smoked chicken sausages and Bratwurst; BBQ pork ribs to die for; and Barramundi Fillet with Honey Miso and Roasted Garlic.
Accompany dishes with fresh produce harvested from One Farrer's urban farm. This farm-to-table concept means you get farm-grown vegetables such as forest mushrooms, peppers, asparagus, zucchini and more – perfect with grilled meats.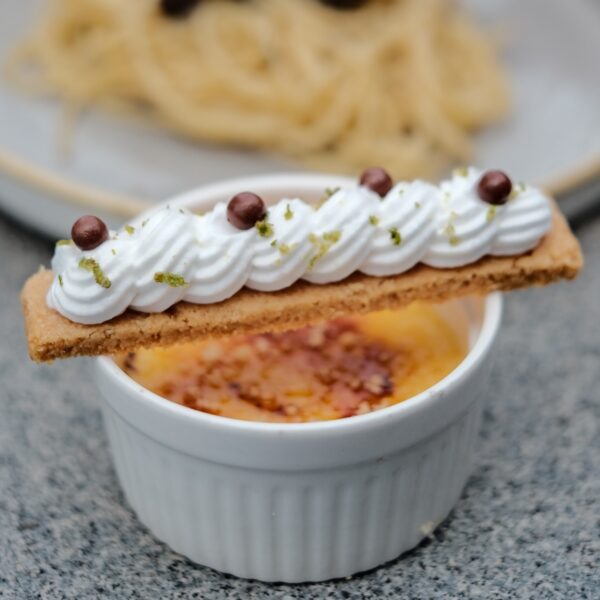 Easter-themed pastries are sure to elicit a lot of Oh and aah. Traditional cross hot bread; Chic and cheeky carrot cake; Rabbit green velvety cake; and chocolate-centric creations like the Egg Nest Chocolate Royale and Chocolate Easter Eggs are just a few of the treats available. Then there are innovative artisan desserts such as the Candied Bacon Brownies Slab (that's fondant, sweet and salty at the same time) and popcorn cheesecake (crispy on it and brimming with creamy goodness).
Toddlers (adults can join too) will have a blast at the DIY Cupcake Corner, designing their own cupcakes with tri-color whipped cream, sprinkles, jellies and assorted candies.
Where is the "dive" in the buffet, you wonder? Well, you can relax after – or before, if you prefer – the feast with a refreshing dip in the Olympic-sized pool for a good time. So book now, grab those sunglasses and plan that long-awaited date with your family and friends.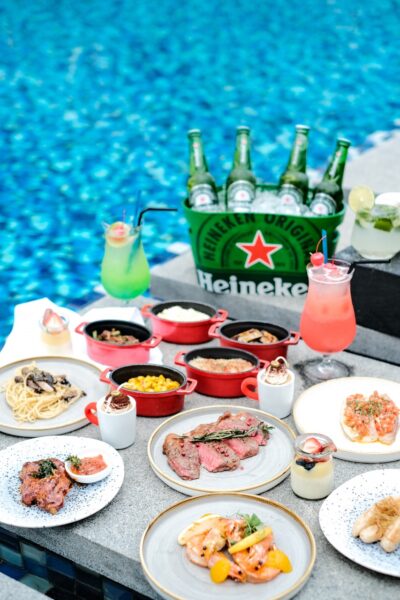 Buffet Brunch Dinner and Diving is Sunday, April 17, from 12 p.m. to 3 p.m., at $68++ per person. Children from 7 to 12 years old dine at half price. Children six and under eat free. Top up $30++ for free flow of beverages (selected alcoholic/non-alcoholic beverages) for one hour. $50++ for two hours. Complimentary use of swimming pool (maximum capacity subject to applicable government policies).
For reservations and inquiries call 6705 7825 (maximum number of people per dinner subject to current government regulations).