ChikSoo Korean Cuisine at Oasis Terraces
Image credit: @chiksoo_sg
Look out, Eastsiders, there's yet another Korean barbecue buffet community near you! Found in Oasis Terraces, Korean Food ChikSoo offers BBQ and army stew buffet for only $22.90+ per person for lunch!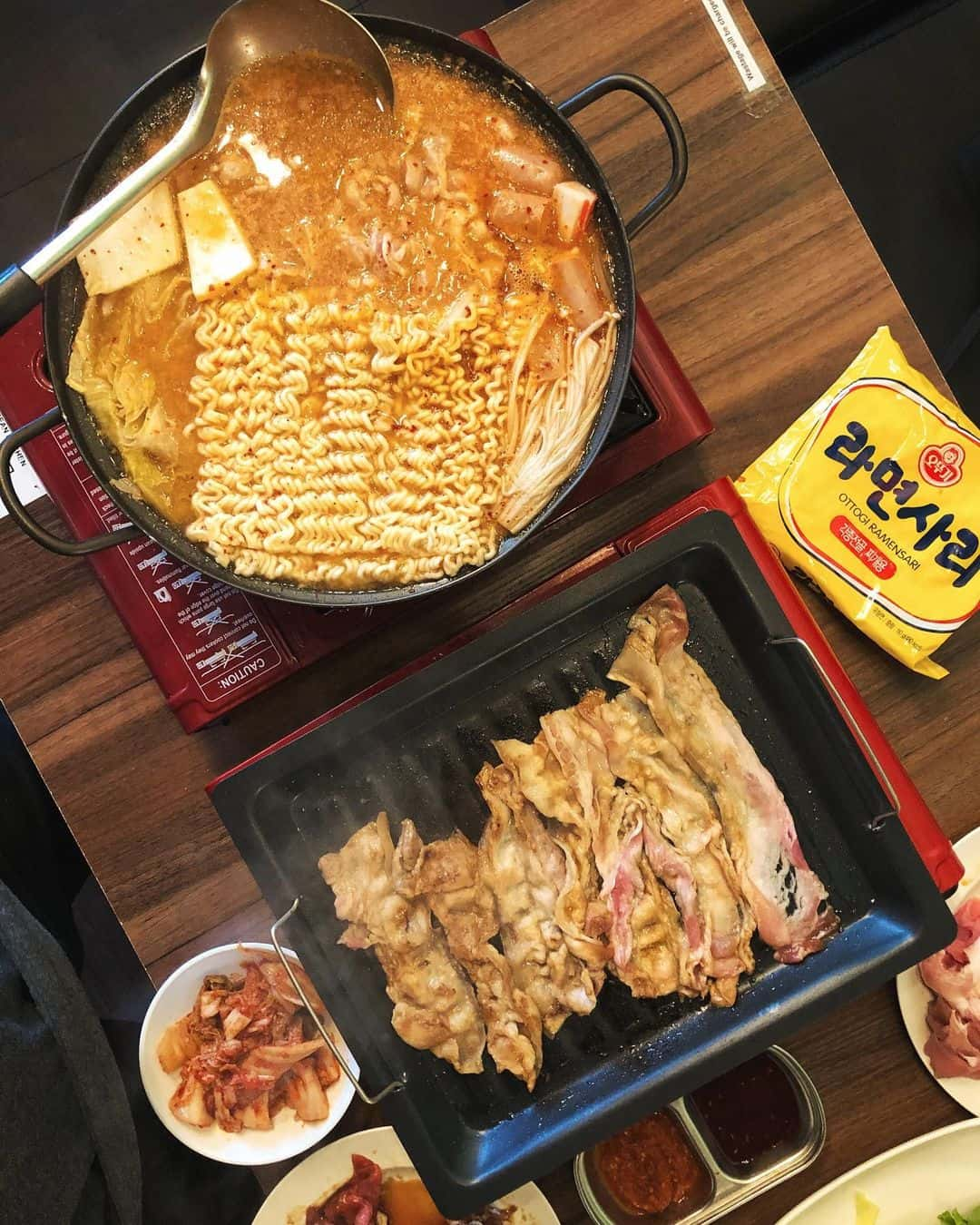 Image credit: @carazayfoodies
Available for 90 minutes from 11 a.m. to 4 p.m., ChikSoo Korean Kitchen offers a free stream of pork belly, pork, and chicken for you to grill as you like. All three cuts of meat can be enjoyed in the Original or Galbi version, but if you prefer a spicy option, opt for the Spicy Pork or Chicken options.
Those who need their carb intake can also enjoy army stew. Although the exact ingredients are unclear, you can probably expect plenty of instant noodles, hot dogs, and enoki mushrooms.
If you are only available in the evening, don't worry, because the Having dinner the buffet is also affordable $29.90+ per person. For the extra $7 you pay, you also get sliced ​​fish and fresh shrimp alongside the meats.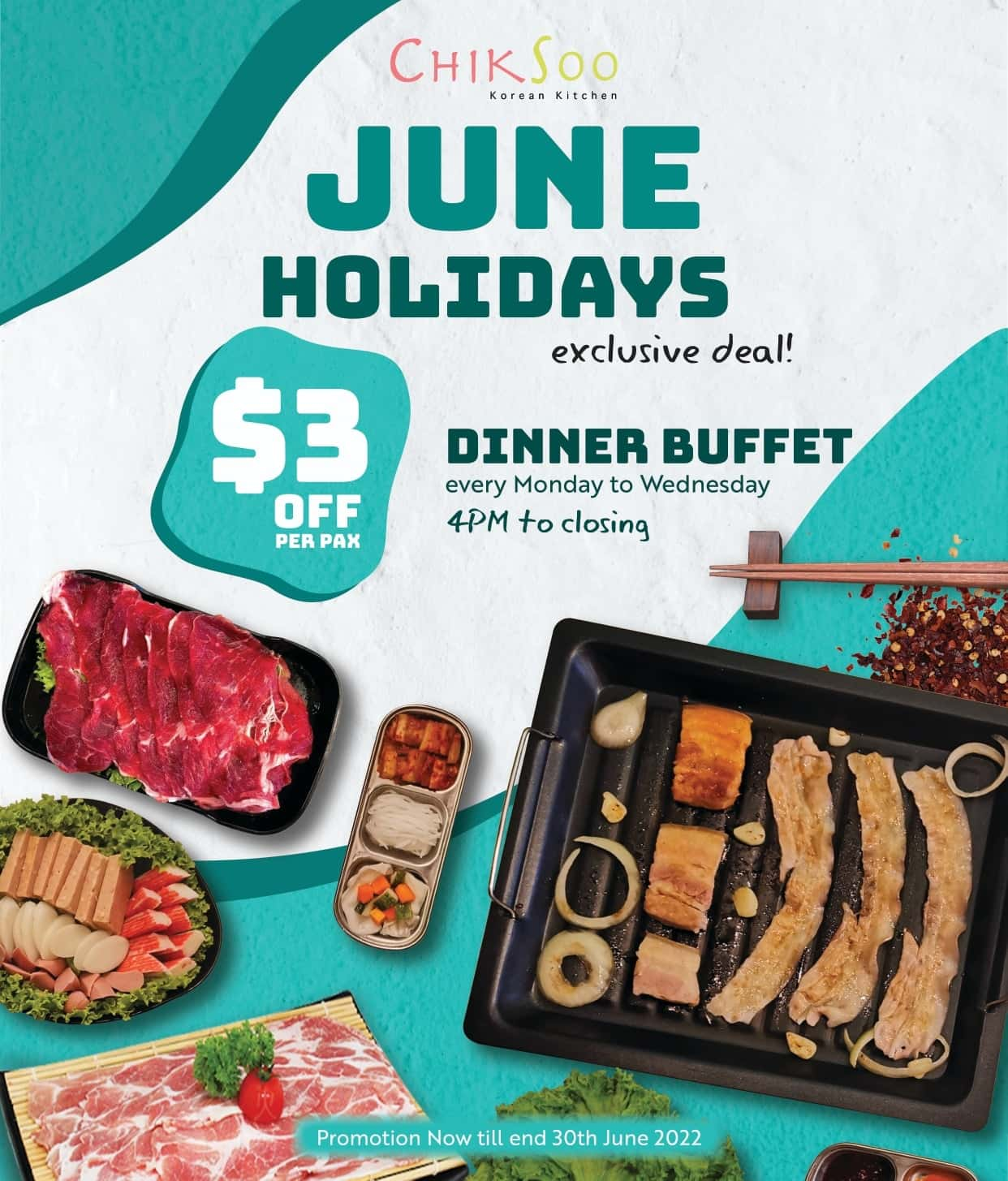 Image credit: ChikSoo Korean Kitchen Facebook page
Also available from now until June 30, 2022, dine on site Monday through Wednesday during dinner for a $3 discount. That brings the price down to just $26.90+ per person! That's a pretty good deal, if you ask me.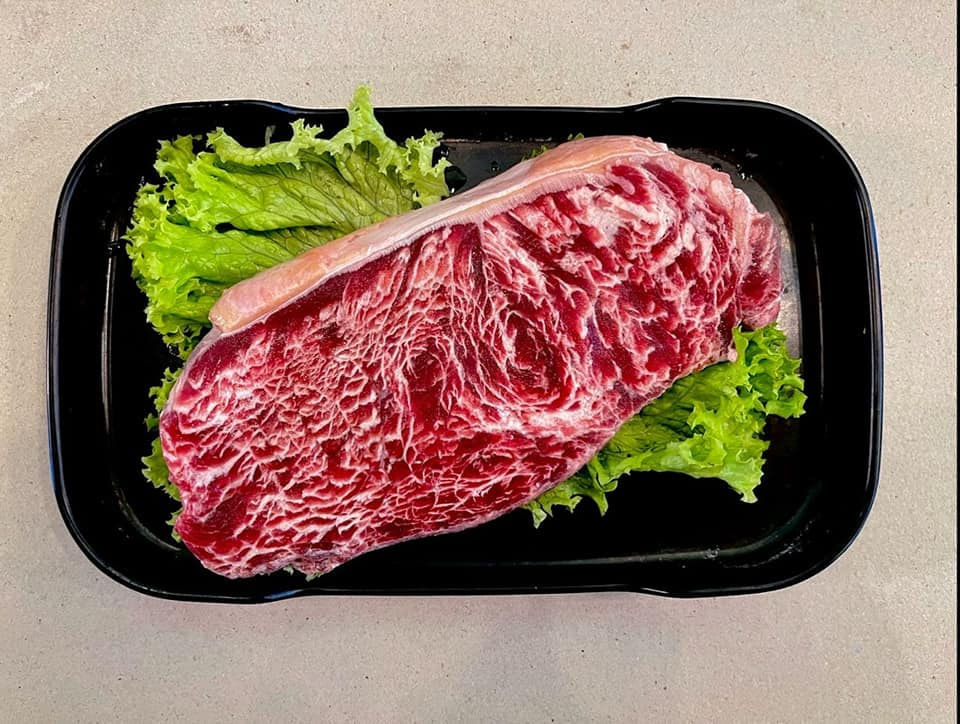 Image credit: ChikSoo Korean Kitchen Facebook Page
For the more carnivorous among us, you can also add premium cuts of meat starting at just $3.90+ per 100g. Opt for the Rib Eye Slice ($3.90+/100g) if you just want to have beef with your KBBQ and budae jjigae, or splurge on the Wagyu rump ($7.90+/100g) if you feel like a baller.
Take note that drinks are not included in the buffet prices, but you can buy ChikSoo Korean Kitchen's Free-flow non-alcoholic beverages package at only $2+ to stock up on Coke, Diet Coke, Sprite and 100PLUS.
If you haven't been there already, go to Pasar Malam of Punggol Interchange who will be there for another two weeks! Korean BBQ fanatics can check out our recommendations for KBBQ buffets in Singapore!
Address: 681 Punggol Drive, #01-07 Oasis Terraces, Singapore 820681
Opening hours: Every day from 11 a.m. to 10 p.m.
Tel: 9329 2195
Website
ChikSoo Korean Kitchen is not a halal certified restaurant.
16 Korean BBQ Buffets in Singapore, Including Hawker and Halal Options
Featured image adapted from @carazayfoodies and @chiksoo_sg's posts.
Images used are for illustrative purposes only.